Prodcuts
Contact Us
International Sales:
Tel: 86-316-2098955/18630626679
Fax: 86-316-2098956
Email: sales@grechembld.com
technical@grechembld.com
Wechat:BY13141394413
Whatsapp:86 18231631255
Add:No.89,Xinhua Road,Langfang City,Hebei China.
Zip:065000
Other Pool & SPA Chemicals
Water Clarifier:
Non-toxic and no hurt to swimmers, to make your swimming pool clear and sprkle.
Chloride Tablets
TCCA 90% Tablets / SDIC 56% Tablets / Multifunction Tablets: 1g-5g, 10g, 15g, 20g, 30g, 200g
TCCA & SDIC granular/powder: 8-30 Mesh, 20-60 Mesh
PH+: Used to raise the pH level to the ideal range of 7.2 to 7.6 ppm. Slows the rapid loss of chlorine caused by low pH, and slows chlorine dissipation.
PH-: A liqiud product is used to reduce Total Alkalinity and pH in swimming pools.
Flocculant: PAC powder flocculant, and those Multi-function liquid with algaecide.
For more information, please write to grechem@greatap.net for request.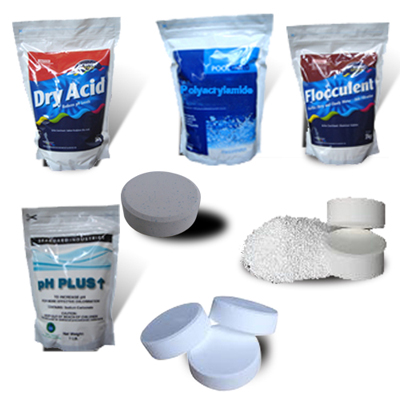 All rights reserved: GreatAp Chem.--BLD Technical support: ShangHao network